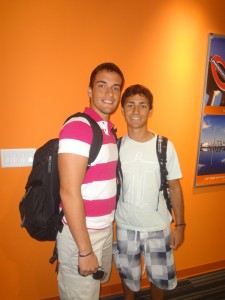 Two of our Brazilian students in our Intermediate class wrote letters to new students giving them advice about life in Miami. Keep reading to find out important information about what to expect when you study English with us at EC Miami! We are excited to meet you soon!
"Welcome new students! Welcome to EC!
My name is Leo and I'm here to tell you what you will do here at school and I think all of you will like it, as me. Here we have a regular time you have to arrive at 8:45 and finish at 12:00, but will have a lot of complementary activities in the afternoon, so you should participate too. We also offer tours in Miami to go shopping, to the beaches and etc. because you have to enjyou your vacation too, right? I hope you like EC as me and enjoy your vacation.
-Leo"
"Dear new students,
Welcome to EC Miami! You will enjoy and learn a lot here, I hope you like it as me. If you really want to learn English, you will get it! You are going to have classes from Monday to Friday and two times per week you can do the conversation [free classes] in the afternoon, you should do it! You can enjoy Miami too! It's a really nice city with beautiful beaches and a famous night life. You can also go to basketball games because of Miami Heat and there are some soccer matches too. I hope you like it and you can search me any time you need!
See you,
Hugo"
Comments
comments