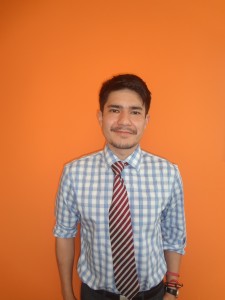 During the summer we are excited to welcome new teachers to EC Miami. Many of you may have seen that the teacher wall keeps expanding and new pictures are being added everyday. How well do you know your teachers?
Many of you have attended activities with Juan, who is our TOEFL teacher. He led a beach volleyball activity last week and this week he is doing beach soccer, so it is clear that he likes the beach and he likes to teach (it rhymes!). Keep reading to find out more about Juan!
"I may look young, but I can assure you that teaching English has been a passion of mine for years now. I first started my career as an ESL Instructor in Costa Rica, where I held free classes for the locals in exchange for surf lessons, and it was in that year that I rode my first wave – oh, and that I happen to love teaching ESL too! In 2010 I became a certified CELTA Teacher in New York City and have taught English there as well as in cities like Barcelona and Valencia. My job allows me to meet some of the most interesting people from all corners of the world. From seventeen year old students from Mali to sixty year old lawyers from Florence, I've taught ESL to all sorts and in return they have taught me things that have openened my mind to different, often wonderful treasures that come from their diverse countries and cultures, which is least to say one of the perks of my job. While teaching in these exciting cities like the Big Apple have been amazing experiences, Miami is definitely my favorite place to be an ESL Instructor. I have to admit that I am probably a bit biased towards teaching in this wonderful melting pot of a city because I was raised here. I left for college years ago and received my degree in English at Florida State University in Tallahasse and haven't lived in Miami since, but now that I am back, I can't stop wondering why I ever left.Take my word for it, sunny beaches far outweigh slushy snow when Winter strikes!"
To learn more about our other teachers keep reading our blog or
click here!
Comments
comments