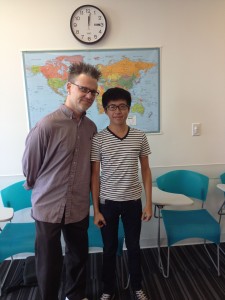 Congratulations to Chang Chih-Wei, or as we all know him, Leo, who is our Student of the Month for August. Leo, who is in the Pre-Intermediate class, is from Taiwan and many students know him at EC Miami because of his big smile and his secret desire to become Batman. Keep reading to find out more about Leo!
Leo's Miami Recommendation:
I'm very happy to choose EC Miami to learn English. It's a good place that you can enjoying your vacation and learning how to speak with another classmates. The class is not only teach your grammar but also teach you the local English. After class, EC give you another activities let you have more practice. So, if you want a special experience and the sunshine, beach for your life, you should choose it. Because you'll never forget it.
Mark's Comments
Leo has been a fantastic addition to class. He always participates and is very helpful when students have problems with vocabulary in class. He also loves Mexican food – one of my favorites!!
Comments
comments