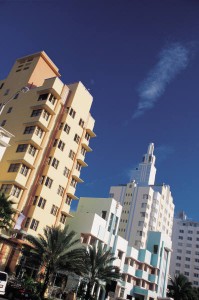 Today, we wanted to show the movie, "The Bird Cage" to give students an opportunity to improve their listening skills. This funny movie has many scenes which are filmed in South Beach, especially near the hotels in the Art Deco District. In fact, many movies are set in Miami and its a fun idea to watch movies that show places you might know in Miami. Here is a list of a few movies (in no particular order) that were filmed in Miami.
1) 2 Fast 2 Furious – This movie is part of the Fast and the Furious movie franchise. It is about a group of people who like to race cars. A few scenes in the movie were filmed in Key West and on the famous Seven Mile bridge in the Florida Keys.
2) Ace Ventura: Pet Detective- This is another movie that is part of a serious of movies. These comedies starring Jim Carrey were very popular in the 1990s and this particular movie was set in many locations through Miami including Villa Vizcaya.
3) Bad Boys – Yet another duo of movies was filmed in Miami. This starred Martin Lawerence and Will Smith and had scenes throughout Miami. One memorable place was the famous, luxury Biltmore Hotel in the Coral Gables area.
4) Scarface – Of course, this classic gangster movie must be on this list. Scarface gives some information about the history of Cuban immigration to Miami and it also shows some famous landmarks such as Ocean Drive. Watching the movie gives you a good opportunity to see what Miami used to look like in the 1980s.
5) Miami Vice – The name of this movie makes it clear that it is filmed here. Many people know this film and the television series from the 1980s with the same name and it made Miami a well-known city around the world.
So, start practicing your listening skills by watching these movies. You never know what places you might see that you recognize. You might find yourself shouting at the TV screen, "I lived two blocks away from there when I studied at EC Miami!"
Comments
comments