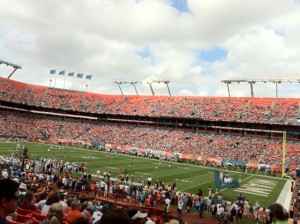 On our calendar for this week we suggested that you try to go to a Miami Dolphins American football game on Sunday. We know that many of your learned about football from Mark during the lecture last week, but if you are still confused about the rules of the game, you can read our blog or talk to our EC Miami expert, Mark.
If you would like to watch the Miami Dolphins play football, you need to go to Sun Life Stadium. This venue is the location of NFL games and also various concerts and entertainment events in the area. Although it is a fantastic idea to see a football game while you study English in Miami, you should know some facts about Sun Life Stadium to make sure you have a good time.
The first thing to know is that the stadium is not located on Miami Beach. You will need to go "off of the beach" to get there and, unfortunately it is not easy to get to by public transportation. The best way to get there is by taxi or by renting a car. If you go with a few friends, you can share the cost of a taxi or rent-a-car. If you decide to take a taxi, make sure that you know the phone number of taxi company to take you home because it is not very easy to find a taxi when you are leaving the stadium.
The second thing to know if about tailgating. Do not be surprised if you arrive to a game and see that there are many people hanging out in the parking lot. This is a common American tradition and it involves having some drinks and food and playing games or throwing a football outside before the NFL match begins. If you rent-a-car you can participate in this tradition but remember that you will have to pay to park your car.
The third thing to know is how to get tickets. Many of you have found the website stubhub.com. This is a great site because you are able to get cheap tickets online and you can usually buy groups of seats together.
If you go to a game, wear your aqua, white, and orange and take lots of pictures to post on our Facebook wall!
Comments
comments