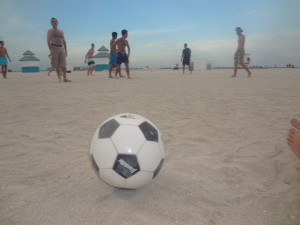 Did you know that you could rent various sports equipment from EC Miami? We know that it was a hot summer and it has been pretty wet recently in September, but the weather is starting to get nicer and you might want to go play some sports with your friends. It doesn't make sense to buy a volleyball for just a few months while you are studying English here, so you can rent one from us! Renting equipment also gives you more flexibility because we may not run the sports event that you want every week on our activities calendar, but you can create your own activity!
If you want to rent some sort of equipment, you can ask at the front desk and we would be happy to lend it to you. We collect a $20 deposit, which we will give back to your when you return what you have borrowed. So, it's basically free as long as you return the equipment to us! If you lose the equipment or it's damaged though, we keep the money so we can buy some more equipment. You also need to make sure that you bring back what you borrow 24 hours later. Please don't borrow items for more than one day because other students may want to use the item that you are using.
We have many types of equipment available for rent such as volleyballs, a basketball, an American football, a soccer ball, and cones. If we don't have the type of equipment that you want to use available you can try again the following day. If we don't have the equipment in our stock at all, please let us know and we will consider whether to purchase it in the future.
So, next time it's sunny (but not too hot) outside, come rent a ball from us and get a game started with your friends and classmates. Make sure that you let other EC Miami students know that you have the ball and where they should meet you if you want to join in the game!
Comments
comments