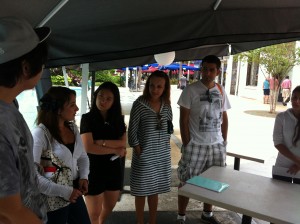 Today, the Get Talking elective class in the afternoon went on a field trip to help make their conversations more interesting. They went to the Art Center of South Florida, which is a free center located on Lincoln Road just before on Jefferson Avenue on the right-hand side. This center has many galleries from multiple local artists and, seeing as today's topic in Get Talking was related to art, it was a good opportunity to see some real art.
The students looked around the galleries and described various pieces of art in partners. Then, they decided which ones they liked and dislikes and gave reasons why. Lastly, they chose two pieces of art to compare and contrast using comparatives and superlatives. For example, Danaik from Venezuela and Seni from South Korea said, "The first painting was more interesting than the second one because it had more shadows and reflections."
While we were at the art center, there were also a few artists who were in the process of creating their art. Some students like Jongmin and Alessandra even had an opportunity to talk to an artist about his pieces. This gave them a great opportunity to practice their English.
If you ever want to see some interesting art, check out the Art Center of South Florida. It's super close to the school and it is completely free!
Comments
comments