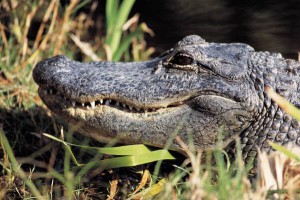 Many students who come to study English in Miami have heard of the Everglades before they arrive. The Everglades is a natural park area that covers a large part of Southern Florida and it is pretty close to Miami. A lot of our students get excited about going there because they want to see nature and, of course, the famous alligators.
This weekend, Kaitlin will be taking any interested students on a trip to the Everglades on Saturday. Kaitlin, as you might know from our previous blog post, usually works at EC Boston, so she is new to Miami just like many of you! She is very excited about the day trip because it will be her first time to the Everglades. If you want to join Kaitlin on the trip, please sign up and pay at the front desk as soon as possible!
Why should you go with Kaitlin? First of all, it is a great price! Secondly, you get to see an alligator show and some people even get to hold a baby alligator. Another reason to go is that you will be able to go on an airboat ride through the Everglades and see real alligators in the wild. We know that the alligators might look fake or like rocks because they don't move that often, but they are real, so don't get too close!  The final reason is that all of your transportation is included, so you don't need to worry about renting a car.
If you already have plans this Saturday, don't worry. EC Miami works with a tour company to offer a trip to the Everglades everyday at 9:15 a.m. and 1:30 p.m. You just need to tell us when you want to go at least 24 hours in advance and pay the deposit money. You can go by yourself if you want and there will be other tourists on the trip. If you want to go with other EC students, talk together and plan to go on the same day/time. If you do go and see the alligators, make sure that you take some photos to show us!
Comments
comments