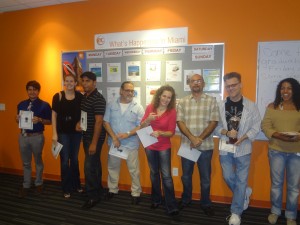 The teachers at EC Miami and teachers all of their world were honored today, October 5th on World Teachers' Day. Every school celebrated in its own way, but EC Miami decided to take a break from grammar, exam preparation, and vocabulary and do some special activities. All of the classes planned something interesting to show their Friday teacher how much they appreciated him/her. Some classes wrote loving poems to their teachers, while others compared their Friday teacher with their Thursday teacher. Some higher level classes made their teachers be the students by giving them tests and projects, while other classes had the students be the teachers by having the students make presentations and "teach" part of the class. Overall, it was a great way to continue speaking English, but in a fun way that showed teacher appreciation.
During graduation, the teachers were given superlatives based on student votes. The winners were as follows:
Best Teacher: Mark
Most Creative: Reese
Most Patient: Juan
Strictest: Jose
Happiest: Michelle and Lynnette
Loudest Laugh: Edwin
Best Handwriting: Eric
After getting certificates and a trophy (for Mark!) the teachers were treated to a yummy lunch from EC Miami. Thanks for being great teachers! We are happy that all of you are a part of EC Miami and we know that your students are very interested in your classes!
Comments
comments