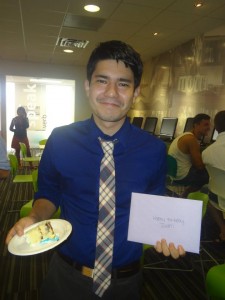 Students in the EC Miami Advanced/TOEFL class took a break from their intensive exam preparation to work together and write a poem for Juan. They presented it to their fantastic teacher on World Teachers' Day and actually recited it to him as a group, but we thought we would share it with all of you too.
Roses are red,
Violets are blue,
It's always fun
to spend time with you.
Daises are yellow,
The grass is green,
Talking about war and morals – is not as easy as it seems.
Serious topics,
You say you're not funny,
You manage them well-
so your class is like honey.
Ocean's azure,
Sand is white,
Again too much homework-
"Thus" I can't go out tonight.
Flamingoes are pink,
Miami's sky is clear,
Too hot for football-
Let's go have a beer!
-Best Wishes from your students

We promise that the students in Juan's class do their exam preparation too, but this was a fun day to try something a little different and work on rhyming sounds and pronunciation. Plus, now we know some interesting things about Juan's TOEFL class!
Comments
comments