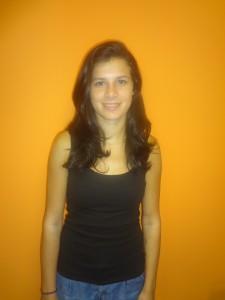 Michelle may not have her photo with the EC Miami logo, but she likes being a student ambassador just as much as our other two ambassadors. She may be quiet, but Michelle is full of suggestions for things to do around the city. She is also in the CAE class, so she might be able to give you information about the Cambridge tests or help with any English questions. Let's find out some more information about Michelle!
"My name is Michelle Wolf. I'm from the capitol of Switzerland: Berne. I finished High School this year and when I'm going back to Switzerland I will work for some months and then begin to study. In my leisure time I love to practice sport activities. In Switzerland I'm in a kickboxing team and I practice three times a week. I'm also a passionate motorcyclist. I'm driving the motorbike off-road and I help to organize trips with the motorbike as a tour guide. I really enjoy to teach people how to drive their motorbike off-road and I love to discover new trips several countries in Europe. I also enjoy to do other sport activities like climbing and snowboarding. The most important persons in my life are my two little sisters, Fabienne and Jacqueline, that's why their names are tattooed on my left arm. They are not just my sisters, they are also my best friends.
There are a lot of great things to do here in Miami. For everyone who likes shopping I suggest to go to Sawgrass Mills in Fort Lauderdale. It's a really big outlet mall and you can find everything you need. To see the city I made a bus tour and a boat tour. That's a lot of fun and you can see more of Miami. To people who like sports I would recommend to go jet skiing. That's really a lot of fun and you can have a real good time with friends. Finally I propose to join the activities from EC Miami to have a lot of fun and meet new friends and of course to speak English."
Wow! That was a lot of information. Michelle apparently has many hidden talents, so don't get on her bad side because she might decide to show off some of her kickboxing moves!
Comments
comments