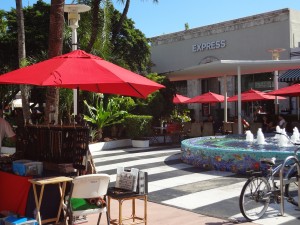 Many students are getting excited about the Thanksgiving break this Thursday and Friday and a few are getting prepared for the biggest shopping day of the year in the U.S. – Black Friday. A few classes at EC Miami have learned about the origins of Black Friday and students who attended today's lecture on Thanksgiving find out about the pros and cons of Black Friday. To find out more about the Thanksgiving lecture by Reese you will need to read our next blog post.
Black Friday is always the Friday after Thanksgiving and it is the start of the holiday shopping season. For this reason, many stores across the country have extreme sales. Because of the low prices, many people line up for hours before the stores open their doors and some really dedicated shoppers even camp outside the store that has their favorite deal. The shopping day has become crazier throughout the years and now some stores even open at midnight and stay open all night. Although some people walk away happy because they have finished a large portion of their holiday shopping, Black Friday has turned violent. In recent years there have been stories of people bringing pepper spray and using it on other customers, fights breaking out, and sadly even a few deaths by trampling.
It is your choice whether you decide to brave the crowds and go shopping this Friday in the Miami area, but if you go, please make sure that you stay safe. The list below gives a list of popular stores in the area and the times that they will be open on Thursday or Friday for the extreme sales.
Sawgrass Mills Mall (outlets): 9 p.m. Thursday (open for 24 hours)
Dolphin Mall: 9 p.m. Thursday (open for 25 hours)
Aventura Mall: 6 a.m. Friday (open until 10 p.m.)
Apple Store: 8 a.m Friday (open until 11 p.m.) Apple will also have an online sale starting at 3 a.m. Friday
Macy's: Midnight Friday (open until 1 p.m.)
To find out more times, check the Internet or ask in local stores!
Comments
comments