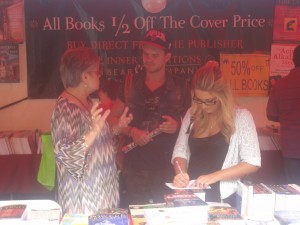 Our EC Miami students Fitoria and Michael attended the Miami International Book Fair last Friday and were asked by their teacher to write about the experience.  To help them learn about reading in the U.S. they were asked to interview various people at the fair. Read what they wrote about this interesting event. To read more about the fair, read our other informational blog post.
On Friday went to Miami downtown to the Miami International Book Fair. It was our first time in Downtown, it was amazing to see so many students and the real, American life.
In our interview we spoke with a woman about 50 years old. She likes different kind of books, but most of them are spiritual, historial, and novels. Also, mystery books rouse her interest. The last book which she read was a research time period book about the Ice Man in the Alps.
It was a very interesting experience to talk to different peopel and walk around the international book fair. We would recommend to students to go there.
Comments
comments