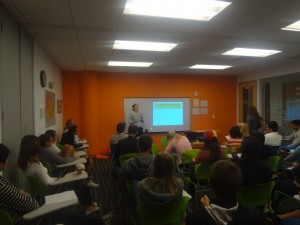 Students in a few of the afternoon classes at EC Miami had the opportunity yesterday to find out more details about the Thanksgiving holiday. All of the students knew that the holiday had something to do with turkey and eating a lot of food, but during Reese's lecture they found out more about the history of Thanksgiving and how it is celebrated today.
Reese gave information about the traditional story of the Pilgrims and the Native Americans sharing a meal together after the Pilgrims arrived in the New World, but she also explained that some people are not as happy about Thanksgiving because it began the conflicts between settlers and Native Americans, which would continue for many years. She went on to discuss the typical foods and many students were surprised to find out just how much food Americans tend to eat on this food-filled holiday. Later in the lecture she also gave information about the traditions on the fourth Thursday in November, such as watching football, joining together with family, and possibly watching the Macy's Thanksgiving Day parade.
In addition, students found out about the day after Thanksgiving, Black Friday and the good and bad parts of this day. To find out more about Black Friday, read our other blog post. She also warned students about travelling during the Thanksgiving holiday because more than 40 million people will most likely travel during these days and the airports and roads become very busy. Lastly, she discussed way to spend Thanksgiving in Miami. Don't forget that if you attended the lecture, you have the opportunity to turn in a summary of the lecture and you can win a prize. The winner will also have their writing published on the blog, so make sure you give yours to Elisa soon!
Comments
comments