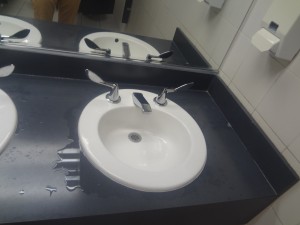 EC Miami prides itself on living its core values: We love what we do, We deliver what we promise, We have a can-do mindset and We go the extra mile!
As we strive to become Global Citizens, it is important that we start incorporating this idea of community, right here in the 1111 building!  Here at EC Miami, students, staff and teachers share space in a landmark building, right in the heart of South Beach on the very glamorous street of Lincoln Road.  We share a space in the acclaimed Suntrust building along with other famed enterprises such as MTV Latin America and Nickelodean.
Now, would we at EC Miami want the likes of such famous entertainment channels to stumble into the 3rd floor bathrooms and find the kind of bathroom culture that we have created?  Surely not!
Let's all work together to become Global Citizens by taking our core values one step further: to the 3rd floor bathrooms!
We love what we do! :  We love to use clean bathrooms!
We go the extra mile!: We wipe down the bathroom counter after we have washed our hands and made a mess.
We deliver what we promise! :  We promise to dispose of all waste and make sure that it gets to it the right recipient!
We have a can-do mindset!: We CAN successfully leave the bathroom as clean as we found it
Comments
comments