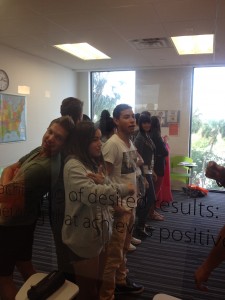 As it turns out, what you wear DOES matter!
In Eric's Vocabulary elective, students' memories regarding their fellow classmates' threads were put to the test.  Students were asked to take a long look at each other, without much more instruction than that.  Minutes later, students had to stand back to back and try to remember what their classmate was wearing drawing from their new clothing vocabulary/language studied in class.
The results are in: it turns out EC Miami students do in fact pay attention to what you wear in class!  Thanks Eric for this valuable lesson in clothing items.  It is sure to go a LONG way for our students at EC Miami!
Comments
comments