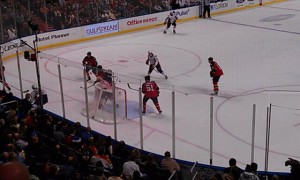 When people think of Florida, they think of beach, sun, surf, and sand.  Playing ice hockey certainly isn't one of them.
While we may not play ice hockey down here, we certainly watch it!  The NHL (National Hockey League) opens its regular season tonight with three games on the schedule (including the defending champion Chicago Blackhawks vs. Washington Capitals).
Almost 20 years ago, South Florida received its own NHL team to cheer for.  Previously, fans here would either choose a team they liked for whatever reason, or they would continue to cheer for the team from their hometown (For example, I am originally from Washington, DC – so I have a natural affinity for the Washington Capitals — Mark).  But with the arrival of the Florida Panthers, local fans had a team to call their own.
Originally, the team was based in downtown Miami, sharing the Miami Arena with the then-fledgling Miami Heat.  But both teams soon relocated to new buildings, and the old Miami Arena doesn't exist anymore.  The Panthers now play in Sunrise (near Ft. Lauderdale) at the BB&T Center.  The arena holds close to 20,000 people, and the atmosphere at a NHL game is hard to beat.
Truth be told, the Panthers have had a hard time of it, and it shows.  One playoff appearance in ten years is rather poor, but that doesn't diminish the excitement of the fans, or the hope of a new season.  Everyone loves a Fresh Start, right?
The Florida Panthers open the season on October 3 in Dallas against the Dallas Stars.  The Panthers will host their first home game (but 5th of the season) next week on October 11 when the Pittsburgh Penguins come to town.  Students at our Miami English School should take the opportunity while they're here and go to a game.  It will be an experience not soon to be forgotten.
Comments
comments