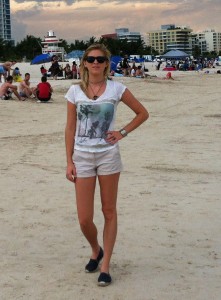 Meet Lindsey!  One of the newest additions to our Miami English School!
About me
My name is Lindsey Jordan and I'm originally from Nashville, TN.  I've been living here in Miami for almost a year and a half, but I've been traveling here since I was a child. I enjoy going to the beach, exercising, traveling, spending time with my friends and family, and learning languages. I have also lived in Spain and Mexico.
Professional Experience
I am a native English speaker and I have been teaching for five years.  I've taught K-12th grades in the public school system, adult general English, and business English. I began my career in Spain, working in a public Spanish high school.  Later, I returned to the US and worked teaching Elementary and Middle School students. Currently, I teach adults and I love it because I meet new students every week from all over the world!
Learning tips
Don't be shy in class, take advantage of your time here and speak as much as possible! Don't worry about making mistakes, that is how you learn!
My classes are…
My classes are interactive, fun, and comfortable so that you can practice and improve your English.  Additionally, I like incorporating speaking activities as much as possible to help students improve their fluency faster.
My favourite spot in Miami is…
South Point Beach (most southern point of Miami Beach) and Key Biscayne (Bill Baggs State Park-beach by the light house)
You can't leave Miami without…
Eating Key Lime Pie! Originally from Key West, but popular all over southern Florida. It is very refreshing on hot days or really any day!
Comments
comments