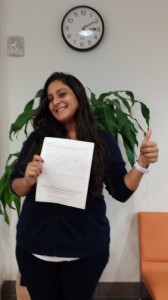 A few weeks ago, one of our teachers gave a lecture to our students taking English classes in Miami about making New Year's Resolutions.  Audrey spoke to two different groups of students, and then the students wrote an essay about the lecture.  Pinar, one of our newer Elementary students from Turkey, wrote this:
People enter the new year with their new expectations.  I have expectations for the new year.  I want to improve my English.  In the new year, I want to see myself at the top level.  I want to stop smoking.  I want to start dieting and doing sports.  I want a reason to laugh, a new love, and new business.  I'm staying here for a long time because I want to get used to life here.  I want to build good friendships here.  I want to do postgraduate next year, find a good job in the future, and I want to be successful.  I have lots of wishes, as many other people.
But most importantly, I want a happy life and love.
2014 looks to be a busy year full of promise for Pinar!
Comments
comments