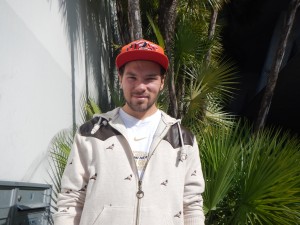 You may recall one of our Student Ambassadors, Gigi.  He's been taking English classes in Miami since October, and is a fixture at Heat games.  Gigi would like to share his experience:
Beautiful weather, beaches, crazy nightlife and the best basketball team with the best player in the world… what do you want more? I came to Miami for this reason and all my expectations were true.
Since my first day, I felt really comfortable in the school, welcomed by group of friendly smiling workers. My English improved a lot in a few weeks. Thanks to great teacher and to a good class structure. We have a lot of activities and I think my favorite is karaoke. We meet new people, we have fun together, we laugh a lot it is a really great time.
I used to live in different EC accommodations. Even if my host family was far from the school, it was really nice. The room in sunbrite is really close from the school and really comfortable. Also, bayshore apartment are amazing. EC School is worldwide in despite that there are a lot of Swiss people. I have now friends from Korea, France, Swiss-German and South America. I definitely recommend EC to my friend because it is a good school. You can learn a lot and people are really cool!
I will remember all the smiles the joyful people have and gave to me.
Comments
comments