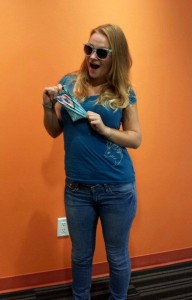 Vanessa is one of our former Student Ambassadors.  Some of you may remember her from her skydiving adventure a few months ago.  Vanessa came here to take one of our Cambridge ESOL courses to prepare for her CPE (She passed!).  She recently sent an email talking about her experience here at EC Miami:
One word to describe my time at EC Miami? Amazing! It was by far the best experience I've ever had. From day one I was adopted into the EC family and it felt like home. Not only did I make friends with students from all over the world but also with teachers and staff as everybody is open and welcoming. My English got better on a daily basis because, if you do it right, you're surrounded with lots of people who like to see you making progress and challenge you every day. And believe me when I'm saying: this is the best thing when learning a foreign language!
Thanks to a big range of activities you can be sure to never get bored! You can play many different sports, go on weekend trips to amazing places or take elective classes like Pronunciation Clinic, Chill & Chat or the monthly lectures. Or if you like to experience something more adventurous you can even let yourself get kicked out of a plane with a parachute!!! How awesome is that?!
Teachers and staff at EC Miami are warm, funny and, to be honest, a bit crazy sometimes. But exactly this makes it so special! You can be sure to have lots on fun in class, everybody tries to make it as interesting as somehow possible. Even outside of the classroom they help you with everything they can and provide you with all the information you need because they want you to have the best time of your life! If you haven't been to EC Miami yet you should definitely go, I assure you it'll be more than worth it!
Comments
comments