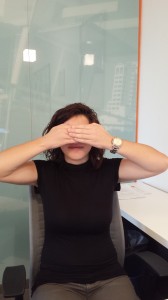 Have you ever gone on a blind date?  I did — once.  It wasn't the best experience I ever had in the world of dating.  My first (and only) blind date happened about five years ago.  A friend of mine said that she had a friend and that we should meet sometime.  We spoke on the phone, and decided to set up our blind date for the next day at a local restaurant for lunch.  Nothing fancy, just a casual lunch on a Saturday afternoon.  When my blind date arrived, she sat down and we ordered drinks and lunch.  After about five minutes, her phone rang and she answered it.  I will never forget watching my blind date as she said to whomever she was talking to on the phone, "Oh not much, what are YOU doing?"
She stayed on the phone for almost 30 minutes.  Enough time for me to eat my lunch, leave money on the table for my part of it, and leave.  My first and only blind date.  I promised myself that day that I would never again go on a blind date.
Obviously, a blind date is a date with a person that you have never met before (as opposed to dating a person who is blind).  I'm sure my friend had good intentions, but I will never go on a blind date suggested by my friends again.  Students taking our General and Cambridge ESOL courses will learn these idioms and more!
— Mark
Comments
comments