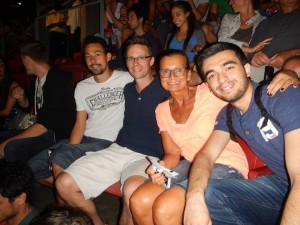 Earlier this week, a group of our students (taking either General English or One to One English lessons in Miami) went to the Miami Heat game.  As you can see from the above photo, they were all smiles.  For some of them, they were all smiles because it was their first NBA game.  Others were all smiles because the Heat won.  But all of them were all smiles watching Lebron James' record-setting performance that night (61 points!).
Hopefully, they will also be all smiles when they finish their courses here and improve their English.  Being able to speak another language is a great reason to be all smiles!
By now, you've figured out that when someone is all smiles, it means that they are very happy!
Comments
comments