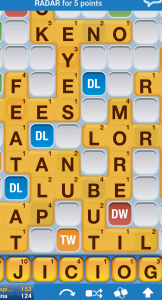 Over the past week, I rediscovered a particular word game on my smartphone.  I thought it would be a good idea for my students to be able to practice, and mentioned it to them in class last week.  
Two of my students (who are now former students) found me on there, and we've had a friendly competition going on for the past few days.  This particular game I was winning, but I'm currently in the middle of one where I'm losing by over 100 points.  
She likes to say it's because she was a good student —  I prefer to say it's because I'm a good teacher.  Either way, it's been fun to have some friendly competition and expand vocabularies at the same time.  It's almost like giving one to one English lessons in Miami!
If you have a smartphone, check your store for variations of this.  If you can find me, I'll be happy to take you on as well!
— Mark
Comments
comments