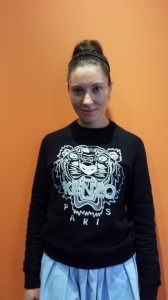 I have been co-teaching the FCE class here at EC Miami since early January.  The writing section of this test tends to give students a particularly hard time, and I have worked this class particularly hard in order to help them practice.  FCE students are also expected to read the book The Perfect Storm, as one of the questions on the writing section will ask about this book.
Today, I gave the class two writing options, and 15 minutes to complete it.  The idea is to get the class to think in English, as opposed to translating from their language.
Maria, one of my Russian students in the class, wrote a great practice essay today related to the book.  She has shown great improvement in our classes and I'm sharing her essay on "What is a 'Gloucesterman'" with her kind permssion:
I have just finished watching the movie "The Perfect Storm".  I did it for the second time already and I will do it again after a while.  Why would I do it?  Because it gives me inspiration to live, to do my best.  It motivates me to have a challenge and achieve my goals.  I want to be a Gloucesterman!

To be a Gloucesterman means to have no fear, to love life, to be responsible for your family, to respect people around and to be proud for what you do.  That definition came from one very clear example when the rescue team tried to find people to save.  One of them said that most of the people were from Gloucester.

That move and book had a very sad ending.  And it's based on a true story.  For me, it's a perfect example of strength.
Great job, Maria!
— Mark
** Remember, in addition to small group classes, one to one English lessons in Miami are also available! **
Comments
comments