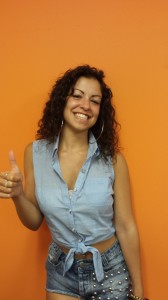 Of all the US language schools she could have chosen, Mandy decided to come to EC Miami.  And we're so glad she did, as she's one of our new Student Ambassadors!
Hi everyone!! My name is Mandy, and I'm a new Student Ambassador.
I'm 21 years old and I'm from the Italian part of Switzerland.
My native language is Italian, but I also can speak a little German, French, Spanish and of course the one we are here to learn or improve, English!
I'm a friendly and upstanding person, who loves parties, fitness and meeting new people.
So, if you need some help, you want to celebrate, or do some activities do not hesitate to contact me;
I will try to do my best !
Enjoy Miami! =)
Comments
comments