Well, here we go again. It is the most special time of the year. Christmas time!!! Now, isn't it? At EC
Miami the USA School of English
we are aware of what the deal is when it comes to Christmas. For our cool students being far from home is not a problem. Not at all if they ever want to come up with some fun plan to do with a friend or partner in Miami South Beach. This year, during the entire Christmas eve students and staff members of EC Miami kept in touch on our super awesome whatssap group in different ways. One of them was by sharing positive vibe Christmas messages wishing the best from one to another. Another way, was by uploading pics and videos we took along the way as Christmas Eve day went by. There was something truly unusual that we ran into on the group conversation thread, though. It was a wonderful pic with our students from Switzerland, Robin and Lars, on the beach.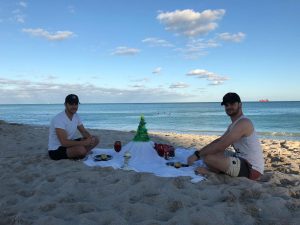 Here is how they have their say on their experience: "What's better than a Christmas candlelight dinner at the beach with your best friend? All you need is a table with a nice tablecloth, a beautiful Christmas tree, a candle for a pleasant atmosphere and a delicious meal. (Unfortunately we only had enough money for one potato. Miami Beach is quite expensive…). Combined with a wonderful view of the ocean, the evening can only be great! Granted: The whole thing was a bit strange, but for the picture and the smiling faces it was definitely worth it!" Greetings, Robin and Lars.
We just love the contrast between the pine Christmas tree, the sand, and the ocean. Anyways, as you can see, this is a perfect example of how our students coming from different countries around the world celebrate Christmas in their own particular way. This is how we are at EC Miami!!! Merry Christmas to you all!
Comments
comments