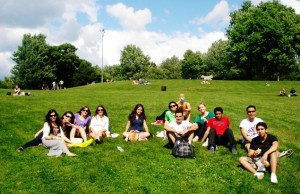 Mutek Festival started on Wednesday ! On Sunday June 2th, it's coming at Picnic Electronik at the Parc Jean Drapeau.
From 2PM to 9 :30PM, three great talents will get some taste of the real Electronic Music !
The show will start with the dashing Swedish DJ Axel Boman. He is well known with his EP named Holy Love, released in 2010, and especially the song  Purple Drank wich was a genius hit and made dance in music clubs !
Then you will enjoy San Proper, a very respected artist from the underground scene in Amsterdam. Famous for his skills with Disco and House Music, he knows how to blend different styles like Afro Beat and Acid House.
DeWalta, aka David Koch, came from the Berlin Scene. Excellent musician, he first studied Classical Jazz, accoustic instruments through wind instruments. Only then he discovered Electronic Music, and released his debut EP « Nebelhorn » in 2007.
By listening a few songs of each artist, I was impressed by their musical skills, mixing several musical genres. The music is sometimes very dynamic, but never aggressive, and sometimes more Jazzy, sweet and refined.
The ticket is 14$ all taxes included, this is a very good way to discover new stuffs, live as well. EC Montréal will tell only one thing : go ahead !
Comments
comments