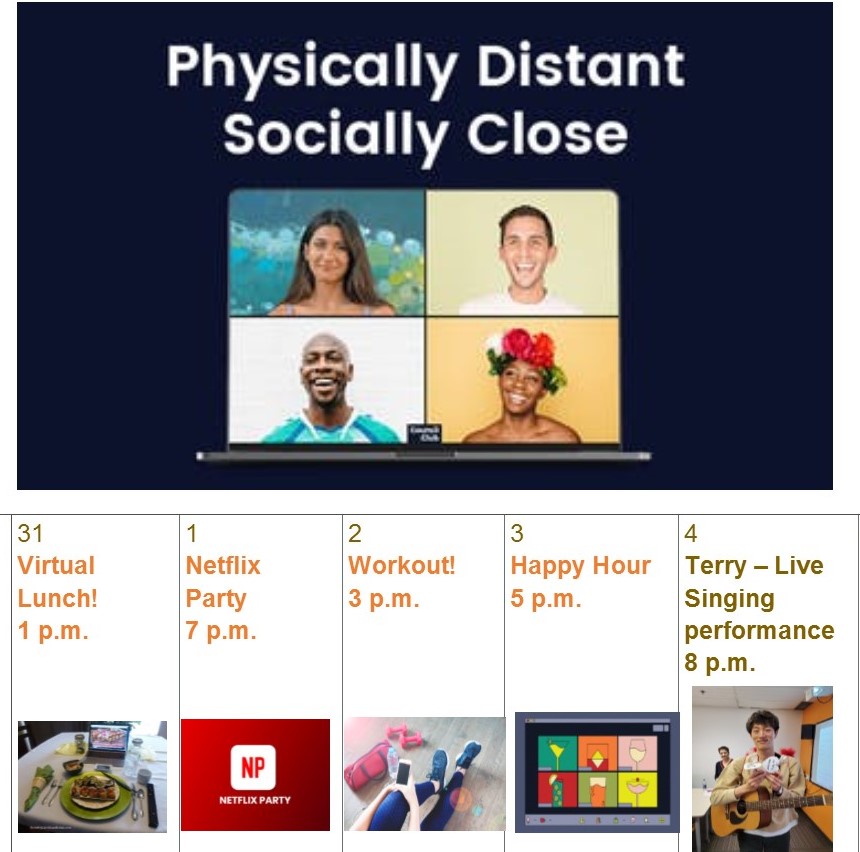 It has been exactly two weeks since we have been mandated to close the school by the Quebec government to help stop the spread of the covid-19 virus.  The mandated closure has now been extended until May 1, 2020.  EC Montreal is still providing our students with virtual lessons during this time.  As of next week, the virtual lessons will be 90 minutes and the academic team is looking into more virtual tools that will make the online experience more engaging and rewarding for our students.
A sense of an EC community has always been one of our priorities at EC Montreal.  We create opportunities for our students to interact with one another, to make friends and practice their language skills.  We looked forward to weekly events with our students, especially the Wednesday complimentary activities and the Friday graduation ceremony.
We have the technology at our fingertips to keep these events going!  We will turn the activities into virtual ones!  Starting next Tuesday, our activity leader; Nanys, will be back to organize wonderful activities with all our students!  Our first week of activities will include a virtual lunch on Tuesday at 1 p.m.  You can eat while you chat with your EC friends.  Let's see who has the most delicious looking lunch!  On Wednesday evening, we will hold a Netflix party.  You will all watch the same movie together and laugh, joke and make remarks throughout!  On Thursday afternoon, Nanys will lead a virtual workout.  You can join the class to keep fit during our isolation.  It is good for our body, mind and soul!  On Friday there will two events; a graduation ceremony for our departing students as well as a happy hour event in the late afternoon.  You can choose the drink of your choice and toast your virtual EC friends.
The last activity of the week is on Saturday.  It is a very special one!  Our activity leader, Terry, will treat us to a musical performance!  He is such a talented guy and his songs are always so heartfelt.
Nanys is looking into more virtual activities to share with all of you for the next upcoming weeks until we are able to head back to school.  Until then, see you onine!
Happy Friday from your EC Montreal family!
Comments
comments