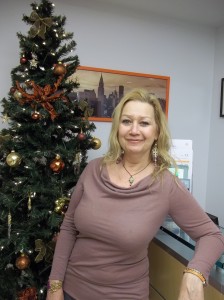 Where are you originally from?
I was born in France, but moved to NYC as a child and grew up here. I also lived for two years in Israel and for one year in Costa Rica.
Why did you become an ESL teacher?
Being an ESL teacher is a second career for me. I used to work as an education psychologist in public schools as well as a counselor so I come from a background in social services. I became a certified TEFL teacher during the year I spent in Costa Rica. What has been rewarding for me in the classroom is that I still use skills I developed as a counselor to assist my students now. I am able to utilize all my strengths as an ESL teacher here at EC.
What level do you teach at EC?
I teach Elementary and Intermediate.
What is your style of teaching and what can students expect from your class?
As you will find in other classes at EC New York English School, I follow a communicative approach to teaching my classes. I always have a class where the students are engaged and active. Someone joining my class can expect a fun environment!
What do you enjoy most about your students?
Learning about other cultures. Cliché as it may be, it's true. It's fascinating to learn about the politics, food, and customs that my students live with on a day to day basis. Additionally, I find it very satisfying to see students develop. Recently, I had a student advance from beginner to intermediate and I was so proud of his progress.
Could you give students one piece of advice or share one recommendation about New York City?
While EC New York is located in a fantastic location, I would encourage students to get away from Times Square and explore different neighborhoods. In order to experience real New York, you need to check out all the different areas of the city. Take the time to roam the streets and discover an area that is not on the tourist maps!
By Vanessa Z.
Comments
comments