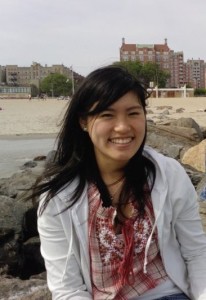 Hi Everyone,
My name is Lila and I just joined the EC New York staff a month ago as the Student Services Counselor. I also just graduated from college so I am still exploring career options. My favorite things to do are eating, traveling, exploring the city, and being spontaneous. I'm not very picky with food so I am always open to try new foods of different cultures. My friends and I would usually choose a neighborhood we've never been to and yelp the best places to eat there. Aside from eating the food, I like watching Food Network to learn how to cook and watching food competition gets me excited.
I love to travel and see different places as well. I travelled to three Asian countries last summer and it was truly an eye-opening experience. My dream country to travel to one day is Greece because I really want to see the sunset in Santorini. Also, I like to be outdoors and try adventurous activities like hiking although I hate bugs and one day I may even attempt skydiving and bungee jumping. An interesting fact about me is that I can't swim, drive, or bike; hopefully one day I can learn how to do all three.
Are you interested in studying English in America? EC New York is for you!
Comments
comments