Nur is an aviation management student from Barcelona who is studying at EC New York for a total of three months.  He shared some information with us about himself and his experience at EC New York.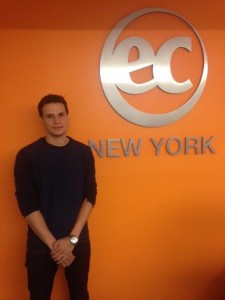 Why are you learning English?
I am learning English because it is really necessary in my major.  In old aviation sectors, the language is English.  Not Spanish, not Italian, only English.  It is also necessary to know when traveling in other European countries, because English is the language of the world.
Why New York?
At first, I wanted to study in San Francisco.  But then I read about New York and saw films about New York and I became curious about the city.  It is the capital of the world.
Why did you choose to study English with EC?
My sister studied at EC in England last year, and she said great things.  So I decided to come here.
What do you like most about EC New York?
The school is very cool, and the people are very good.  I can meet people from all over the world!  I have very good teachers like Hans, Mike, and Adriana.
What do you like about living in New York?
There's nothing you can't do.  You can see people from every country, food from every country, and visit neighborhoods like Chinatown, K-Town and Little Italy.
What do you think of New Yorkers?
They are very busy people.  You can do whatever you want and people don't care.  They are open.
Favorite places in New York?
I love Lower Manhattan- the East and West village.  I also like running in Central Park.
Some fun facts about Nur:
His favorite food is pasta, and he loves to people watch!
Would you like to study English like Nur?  Check out our programs to study English in the US!
Comments
comments