As an international student, it can be difficult to know how much things cost in Oswego while studying here!
We have broken down the costs of things into average costs, trips, and transportation.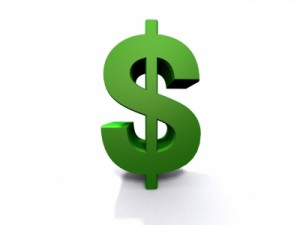 Average costs:
Movie ticket in Oswego: $6.50-$8.50 for adults
Average sit-down restaurant meal in Oswego: about $10-$12
Average alcoholic beverage cost at restaurant: $4-$8
Average fast food meal: $1-$10
Average cost of groceries/necessities for a college student: About $50
Trips:
To New York City from Syracuse:
By bus: $70 round trip, $35 each way
By train: $126 round trip, $63 each way
To Niagara Falls from Syracuse:
By bus: $50 round trip, $25 each way
By train: $80 round trip, $40 each way
Transportation:
Centro bus to Syracuse from Marano Campus Center – $5 each way
(Thursday-Sunday free with sticker issued by Student Affairs Office)
Taxi ride into town: About $10
Taxi ride to Walmart/Shopping center: About $15
As you can see, living in Oswego is fairly affordable!
If you are a student wanting to learn English for Academic Purposes at EC Oswego, this list could help you out!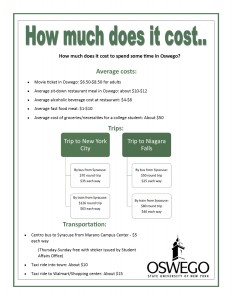 Comments
comments