The Oswego Dragon Boat Festival is an annual event in Oswego! 
It is sponsored by the YMCA and takes place in Breitbeck Park overlooking the Inner Harbor.
What is Dragon Boat Racing?
– An international sport that involves competition between specially-designed 'dragon boats' driven by groups of 22 people, including 20 paddlers, one drummer, and one 'sweeper'
There will be music, food, and a lot of entertainment! It will be a lot of fun to watch!
Fireworks on Friday night!
When: Friday, August 19 beginning in the evening, and Saturday, August 20 at 9:00 am and goes on most of the day
Where: Breitbeck Park
Cost: Viewing is free, vendors cost money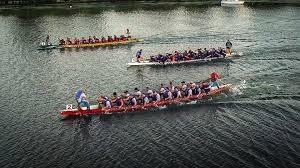 Learn English for Academic Purposes at EC English Language Centres.
Comments
comments