The Great New York State Fair is here!
Thursday, August 25 – Monday, September 5
The New York State Fair is an annual event in Syracuse, NY that is filled with fun!
The State Fair features a ton of entertainment including:
– Free live music
– Shows
– Rides
– Competitions
– Walking entertainment
A list of free concerts and entertainment are available at: http://nysfair.ny.gov/
The State Fair is known for all of their food and beverages as well! The Fair has any type of food you could ever imagine – and then some!
You can get deep fried anything, fresh squeezed lemonade, $1 baked potatoes, and the list goes on!
The State Fair goes on for 10 days, and runs from 10:00am-10:00pm every night! Almost every day has a special day including "dairy day, beef day, fire & rescue day" etc.
Prices:
Every Thursday is $3 Thursday! This means that admission is only $3
Fair admission any other day is $10.
Monday, September 5th is dollar day! That means admission is $1 that day only.
Transportation:
The Centro bus runs from 2 locations in Oswego and brings you right to the front gate of the Fair! It is $5 for full fare.
Both of these locations have different pick up and drop off times.
1. West 1st Street & West Bridge Street to the NYS Fair:
-8:55am, 10:55am, 12:55pm, 3:55pm, 5:55pm
2. West 1st Street & West Schuyler Street:
-8:50am, 10:50am, 12:50pm, 3:50pm, 5:50pm
NYS Fair to West 1st & West Bridge Street:
-12:00pm, 2:00pm, 5:00pm, 7:00pm, 9:30pm, 11:30pm
More information on the bus schedule is available at: http://www.centro.org/special-events/ny-state-fair/ny-state-fair-oswego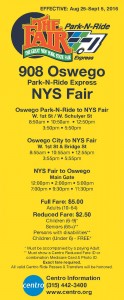 We encourage all of our students learning English for Academic Purposes to try and make it out to the New York State Fair, as this is such a fun event!
Comments
comments