One thing a lot of our students love about Oswego is the amount of activities always going on!
There is never a dull moment here at SUNY Oswego, as there are always events and activities happening on and off campus!
EC Oswego students are welcome at any event happening on campus. This is a great way for them to meet new people, become more familiar with the school, and practice their English with native speakers!
Each week there are a variety of events/activities. There is a little something for everyone here!
This week's activity calendar looks like this: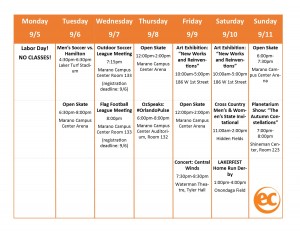 Click here to make the print larger –> 9.5
We hope our EC students attend some of these events and have a great time!
Are there any specific events you would like to see happen? Let us know!!
EC Oswego English Center provides lessons that fall under the English for Academic Purposes Syllabus
Comments
comments