We would like to give a big welcome to our 2 newest students here at EC Oswego!
One started last week, and the other started today. We are so excited to have them be a part of EC Oswego!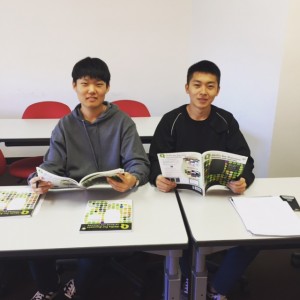 Jeongguk Kwak (on the left) is from South Korea, and is 18 years old. He is very excited to begin classes today with Ec Oswego. He lives in the dorm with a former EC student, and is already making a lot of friends! We can't wait to see your progression, and wish  you the best of luck!
Jixuan Li (on the right) is 22 years old and from China. He and Kwak are in class together, and are becoming friends right from the start! Li has also made friends with other students in the class. Good luck in your studies, and we can't wait to watch you succeed!
We are so excited to welcome these students to campus. They already seem to love being here, and we hope they have an amazing journey through EC and the University!
EC Oswego English Center provides lessons that fall under the English for Academic Purposes Syllabus
Comments
comments