Last week Pablo left EC Oxford after being part of the team for 6 months.
He would like to say a few words:
"All good things come to an end and one of the best of my life is doing so today.
I could say that all things about how wonderful is the city and how much I have enjoyed, but those who know me they know it is absolutely true.
Oxford is the perfect scenario for a wonderful chapter in the tale of my life.
I want to thank EC and specially Michael for the opportunity given to prove myself in the workplace. It has been a very enriching experience where I have learnt a lot.
And of course, I want to thank the students, without them none of this would be possible. I dedicate every day of my work to try making their first days at the school, in the city, as easy as possible. As a reward I have got a bunch of good friends all around the world.
Thanks to all.
Pablo"
Thank you Pablo, you will be missed!
We wish you all the best!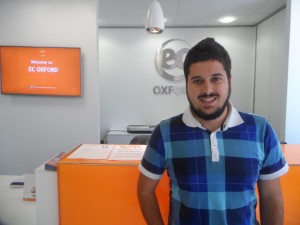 Comments
comments