Our students from CAE exam preparation course that left us last week wrote some paragraphs about their experience in EC Oxford. From today until the end of this month we will share with you their experiences.
Here is the one that Leane wrote. We hope you find it useful!
"A time you will always remember", by Leane
I still remember it as it were yesterday. Standing at the airport full of excitement, nervousness and curiosity. Only a few steps separated me from the start of a new chapter in my life, a three months English preparation course for the CAE at EC Oxford. When my plane finally took off, one of the greatest adventures was about to begin.
Having almost finished my course now, I feel nothing but sadness over the fact that I soon have to say goodbye. The last three months went by in just the blink of an eye. Not only did I genuinely enjoy the course, but I also met a great deal of new people, who now have become true friends. During my stay I got an insight into diverse cultures and I gained experiences I will never forget.
However, I also improved my English skills throughout the course. EC Oxford is located in the heart of the city. It' s designed in a modern way and close to all kind of restaurants. All those facts make it a perfect school to learn English and enjoy the time within your stay. Although the CAE class was quiet big this time, the teachers well managed to prepare us for our final exam.
Unfortunately, EC recently had to say goodbye to one of their most inspiring teachers. One thing is sure, it will never be the same for the next CAE classes.
Nevertheless, it' s still worth attending EC due to its well-organised school system, its highly qualified teachers and the unforgettable memories you will certainly make"
Thanks Leane, best of luck for you in the future!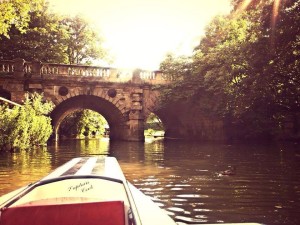 Comments
comments