Estelle, from Switzerland, writes about her EC experience. Read what she has to say about her time at EC Oxford English Language Centre !
Writing this text, my EC experience has almost come to an end.
 I have been staying in Oxford for three months and I have attended the CAE preparation course. Although preparing for an exam can be exhausting, our sensitive teachers managed to keep us motivated and came up with effective ways of teaching us grammar, writing, speaking and listening. After three months of preparation my whole class feels absolutely ready to take the exam and can face it relaxedly.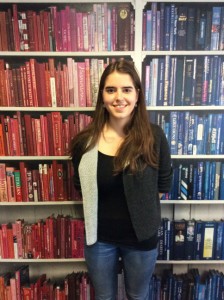 EC Oxford is a well-organised school with modern equipment. It has to be said that EC Oxford has a great location in the city centre. Three times a week there is a market on the place right in front of the school with delicious food from all over the world. 
 My favourite EC activity was the weekly "Café Chat". There you have the chance to get in touch with new people who have just arrived at the school this week. That is how I met my friends, some of which are from countries I had only known little about, for example Taiwan and Japan. Now I definitely want to travel to these countries and meet the people I got to know again! Oxford is an awe-inspiring city and was a brilliant choice. Neither too big nor too small, Oxford offers a lot do without being as loud and crowded as London. If you want to do a trip to London anyway, it couldn't be easier, since it is within easy reach by bus or by train. In Oxford you can also have a look at the famous colleges and watch the Oxford University students wearing their quite amusing gowns. Not only can you study in the library of the school, but also in the beautiful parks around Oxford. If it rains (which of course never happens in England…), you will find numerous cosy cafés to study or to spend time with your friends.
 Thank you, EC Oxford! I will keep my stay in good memory.
Comments
comments