Our Intern Ayan had the opportunity to join our Rounders competition at EC English school in Oxford last week! She and our students really enjoyed it, so she wants to share her impressions with us!
For the social program of this week, the theme was sports week. To kick off the sports activities, we had a rounders competition between the classes. We were divided into two teams consisting of three classes each along with an intern and two teachers.
It was a little hard for everyone to understand or remember the rules, so the first round consisted of many students missing the ball. After the second round, the momentum began to build up and we had many home/full rounds by the students. It was exciting and got all the students cheering for each other. We would switch positions after three players were out, so we had enough time to play for each round.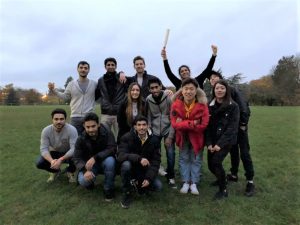 After the scores got really close, the winner should be the first team to reach 25 points. Unfortunately, it was getting dark and the park was closing so we never got to finish the last round. The game ended with a draw of 22-22. A fantastic game with good team spirits. We all went home with good spirits!
During the game, we have many funny encounters while playing. Some players slipped while running as the grass was wet. It was even funnier that they continued to run while muddy. Others ran so fast that they outed other team players on the same posts. We had some nice batters and some incredible saves from the players that exhilarated the game.
Another sports competition of rounders would be great in the future!
Comments
comments