The start of a new year is a great opportunity to get into some new books – there's a great selection of books for all levels in our EC Oxford English Centre library. Here, Candice reviews a book she's read recently which she couldn't put down.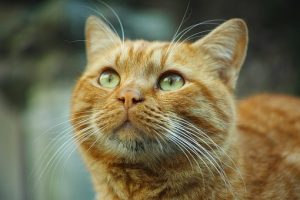 James Bowen.
Ever heard of him?
No, neither had I. That was until a few years ago when he started making the news. And not because he did anything that was particularly worthy of attention but simply, because of his cat.
At Christmas, my mother gave me a book called 'A Street Cat Named Bob'. I finished it in 1 day and learned much more about this real man, James and his cat, Bob.
Simply put, James Bowen was a struggling drug addict living in London. In his downward spiral he lost his friends, he lost his family and worst of all, he lost his home.
After a desperate decade living on the streets, he moved into special housing and it is here that he encountered a cat who was to change his world and his destiny. This is where the book starts.
Bob, a handsome ginger male cat was also homeless. He was cold, tired and hungry so James took him in, fed him, gave him medicine and helped Bob recover.
At that time, James earned his living by busking (singing and playing guitar on the streets). To his surprise, Bob began following him around London, travelling on buses and sitting patiently next to James for hours and hours as he earned his living day by day.
What we start to see is the wonderful way in which Bob attracted the attention of those people passing by who were more than happy to part ways with their money at the sight of one man and his cat on the streets.
Very quickly, James and Bob became well-known on the streets of London and he began making more money.
Ultimately, this is the touching and heart-warming story of one man's bond with an animal and how this bond enriches the lives of them both. The friendship between the two is astounding and it is through the unconditional love that Bob provides, that James is finally able to beat his addiction to drugs. James credits Bob with saving his life.
The book is very easy to read and draws you in to the harsh reality of life on the streets. It is a page-turner as James describes his life and the adventures he and Bob have with the people they encounter.
As a cat lover, I was fascinated by the story of just how much this little cat bonded to this man and how comfortable he was moving on the busy streets of London.
I am pleased to say that James Bowen has gone on to write several more books about their adventures together and they have even made a film of their story also called 'A Street Cat Named Bob'.
If you are interested in seeing the real pair, you can find footage on Youtube of them busking on the streets and being interviewed on British TV. Bob really is an amazing and highly intelligent little cat who has won the hearts and minds of people in this nation.
The lives of this magical duo has been transformed by the start of their special friendship all those years ago. In my opinion, no one is more worthy of the second chance they both finally got in life.
Comments
comments