In 2018, we have started a new initiative at EC Oxford English Centre, which has got off to a fantastic start. Every month two classes combine to create a change in dynamic in our classes. Here we find out more about what happened on Thursday 22nd February when Upper Intermediate and Advanced classes came together to debate!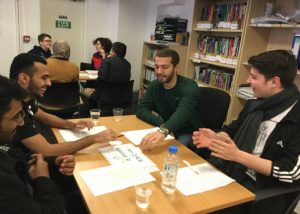 Both the Upper Intermediate and Advanced classes were taught debating vocabulary, including how to express shades of opinion. They joined with the other class in the usually off limits area that is the Teacher's Room.
Each group was comprised of around two students from each class. The students rolled the dice to find out if they needed to argue for or against a particular topic.
Every ten minutes, the group had to change what they were debating by turning over a new card, as well as changing groups after a set period of time.
The students used lots of great language and enjoyed working with people from different classes. The students found it really challenging to assume a point of view that was not their own, finding that this stretched them in terms of the language they needed to use but also in terms of generating ideas.
A great success, the teachers are already planning what might be in store for the next time we bring our students together in this way in four weeks' time!
Comments
comments