Here at EC English Language School in Oxford, we're proud to have a Social Programme that has a different theme every week to make each week feel special to our students. In 2018, we've started to include a new week in our Social Programme: Harry Potter Week, which was warmly received and will be returning in the near future. But where are the main sites for the Potter fan to visit in Oxford?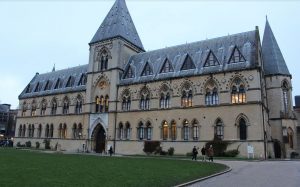 Well, firstly, there's the Hall in Christchurch College, which was the inspiration for the Great Hall where Harry eats the lavish banquets which feature in most of the films. Not a bad dining hall, either for Harry or the undergraduate students who dine there each night!
You can buy your ticket to enter the college from the gate on Christchurch Meadows or from the website before you visit.
The Bodleian Library is another Oxford institution well worth a visit in its own right but also has particular interest for Potter enthusiasts.
Four films used the library for locations for the Infirmary and the Duke Humfrey's library is instantly recognisable as the forbidden section of Hogwarts library.
Instead of visiting in the dead of night with a lantern and an invisibility cloak, it's highly advisable to join the 30 minute tour, which is the only (rule-abiding) way to visit this area of the library.
This isn't to mention the New College Tree or the props inspired by the Museum of Natural History, but hopefully if you were spellbound by J.K. Rowling's wizardry on the page, you'll know where to start looking in Oxford to see where this magic was conjured up on screen.
Comments
comments