When you learn English in Oxford at EC, we often link the beautiful city we're studying in with your learning. 
Nathalie and MK visited Christchurch College Cathedral with Tobias' class last week. 'Colourful, stunning, rewarding' – find out why this is such a must-see attraction here in Oxford in their evocative description of their class visit.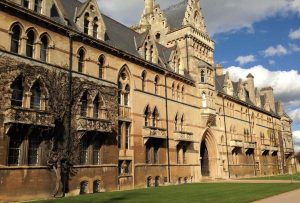 In the stunning cathedral there is a little area called 'Latin Chapel.' We can see three interesting objects there.
Firstly, in the North East corner of this area. There's the shrine of Saint Frideswide. It's the oldest monument in the cathedral. It's covered in beautiful fine carvings of plants and faces.
The green and white fine carvings or plants gives the ancient cathedral a contrast of nature and life.
Once, it held the relics of St Frideswide, but it was smashed by the orders of King Henry VIII when he destroyed the monasteries in the 1530s.
Three hundred and fifty years later, the fragments of the shrine were found in really good condition.
If you stand in front of the chapel, you can see a very bright colourful impressive window, which explains the story of St Frideswide.
This window is called the 'East Window' of the cathedral. The shapes and the colour harmonizing together – it's a pleasure for your eyes!
Right of the window, there is a fascinating 'Watching Loft' from the 1500s.
Today it's not clear if it's either a chantry chapel or a Watching Loft, but nevertheless it's an exquisite example of stunning medieval woodwork.
It costs around eight pounds, but it's totally worth it because you'll get a rewarding experience. Take the opportunity to go to Christchurch College if you're in Oxford!
Comments
comments