This week at EC Oxford, we celebrate all things Oxford! The City of Dreaming Spires is a source of inspiration for many people: famous authors and actors have found their voice in this city; architects have shaped the city's skyline; artists have captured Oxford's beauty in their paintings…

As usual, we will start the week with an amazing Welcome Event. We want all our students to feel at home, so this event will do just that! They have the opportunity to meet other people, teachers included, and learn about our amazing social programme.
Homework Club
Our traditional Homework Club happens on Monday and Tuesday with Lorna and Malachy respectively. They will not only help you with your homework but also with any other question you may have about English: vocabulary that came up in your lessons, that little bit of grammar you don't quite understand, or you can just have a conversation with them!
Oxford Clinics
This week, we are having two clinics about the city of Dreaming Spires with Lucy and Malachy on Wednesday and Thursday. Make sure you attend one of these clinics, as they will give you an insight into who the people of Oxford really are.
Go Punting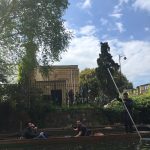 To top it off, we knew we needed an "Oxford" activity, and what is more Oxonian than punting? I'm sure you have noticed the long, narrow boats that roam around the river. Very similar to the famous Venetian gondolas, a punt needs its pole. The whole situation looks a little bit scary; after all, one of the punters is standing on the edge! But worry not, punting is 100% safe. Until someone falls in, that is!
If you want to make sure you will not fall into the river, make sure you watch a couple of videos that explain how to punt.
Farewell Event
Do not miss the Farewell Event! This is your last chance to say goodbye to those classmates who are finishing their course at EC Oxford. Make sure you leave some messages for them at the reception!
At this event, you will also get an update on next week's Social Programme.
We want to know what you think, so please share your ideas with us. What do you want to do next?
Comments
comments