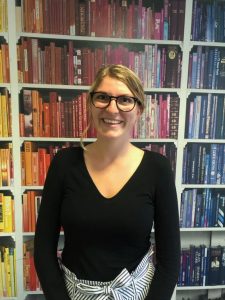 We have a new English teacher in Oxford. Here you can read our Q&A and get to know her.
Q: What did you do before you came to EC Oxford?
I did my BA degree in Corporate Communication in Vienna, Austria, before I came to Oxford. After that, I did an intensive teacher training course here in Oxford and started working at EC almost immediately after I had finished that.
Q: What is your role here in EC Oxford?
I am a teacher at EC Oxford.
Q: What have you enjoyed about working at EC Oxford so far?
Definitely the atmosphere. Everyone is incredibly helpful, and it seems that the people who work here are just lovely people in general.
Q: What do you like about Oxford as a city?
For me, Oxford is the perfect combination of a lively city full of students, that has a lot of history and offers a great variety of things to do. And if I want to escape the buzz, I can just take a book, hop on my bike and cycle to one of the numerous picturesque spots by the river.
Q: What's your hometown? Can you describe it to us?
I was born in a small town in the very north of Austria. However, I moved to Vienna immediately after I'd finished school and have lived there for the last couple of years. Vienna is a brilliant place to call home. It has the infrastructure and opportunities of a European capital but at the same time it's quite a small city compared to London or Berlin, which makes it comfortable to move around in.
Q: Our school is all about helping people who are learning English, but have you learned any other languages? How did you learn them?
My mother tongue is German, and I learnt English, Spanish and Latin in school. There was a point where I got so desperate to learn Italian as well that I started taking weekly classes whilst I was at university. Having gotten a good foundation in school, I started watching films and reading books in English. When I was 16, I wanted to spend some time in the UK and experience the language in its 'natural habitat', so I started looking for host families to take me in for the summer.
My search was successful, and I ended up spending some time in Liverpool and a couple of weeks near Portsmouth that summer. The complete immersion in a language and – in a good way – being forced to speak it on a daily basis help the development of my language skills enormously. Not only have I experienced that with English, but also with Spanish and Italian.
Q: What do you like doing in your free time?
I have dedicated most of the free time in my life to music and will definitely continue to do so. I started playing instruments at the age of 6 and have not stopped practicing and rehearsing since. Some of the best moments of my life wouldn't have happened if it hadn't been for my love for music. I especially love playing together with others, be it in an orchestra or smaller ensembles, because there is just something about creating art together on the spot, after you've worked so hard to get to where you are now.
Q: What are your future plans?
After my time at EC Oxford my plan is to go back to Vienna for a couple of months to teach English there. Next autumn, I want to start doing an MA in the field of linguistics here in the UK.
Comments
comments