Rachel has joined the EC Oxford team as a new SSC. She answered some of the questions our students prepared for her.
Q: What did you do before you came to EC Oxford?
Before joining EC I worked at a Business College in Oxford. At the college, my role was to manage the student accommodation as well as the UK/EU student admissions.
Q: What is your role here in EC Oxford?
I am a Student Services Coordinator.
Q: What have you enjoyed about working at EC Oxford so far?
I have always enjoyed working with students from all over the world. At EC, I can meet different people and learn about their culture which I find very interesting. My job role at EC is different day to day, which I find very interesting, especially meeting new people, learning new things and the staff are all very supportive and welcoming.
Q: What do you like about Oxford as a city?
I have always lived local to Oxford in a town called Banbury. When living in Banbury, I would travel to Oxford often as there is always a lot to do. There are plenty of shops, restaurants with cuisine from all over the world, interesting museums, a river flowing through the city and not to mention the beautiful sights of the Oxford University buildings.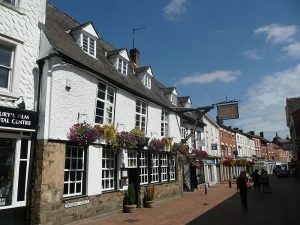 Q: What's your hometown? Can you describe it to us?
My hometown is called Banbury. It is a small market town and it doesn't take long to travel to Banbury from Oxford, it's around 15 minutes by train. Banbury is a small town with many restaurants, a shopping center, there are many surrounding villages, ideal for beautiful walks, and Banbury also has the same river flowing through as Oxford. Banbury is popular for people that work in London, Oxford and many other cities, as it is a convenient commuting town. With access to the motorway, country roads, buses and train lines, Banbury, is the ideal place to stay for commuters. It is popular for its nursery rhyme- 'Ride a Cockhorse to Banbury cross', and it is also known for its delicious 'Banbury Cakes' which can be purchased in most local cafés and delicatessens.
Q: Our school is all about helping people who are learning English, but have you learned any other languages? How did you learn them?
The only language I can speak now is English. I did learn French at school although I haven't put it to practice so I have sadly forgotten a lot of the language. I have recently started learning Brazilian Portuguese as I have a lot of Brazilian friends who live in Oxford. I am learning Brazilian Portuguese through the app 'Duolingo', which I have on my phone. I find this app very useful and I would recommend this to anyone who would like to learn a new language.
Q: What do you like doing in your free time?
In my free time, I like to visit friends and family. I am fortunate that I have friends that live in different places all over the country, I enjoy exploring the places where they live.
Q: What are your future plans?
My aim is to speak Brazilian Portuguese to a good standard by the time I go on holiday to Brazil next year.
Comments
comments