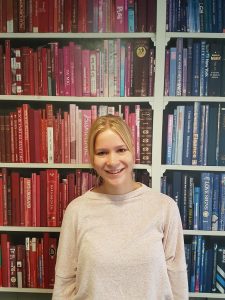 We have another new student ambassador: Malouke. We asked her some questions to get to know her better.
1.What's your hometown? Can you describe it to us?
I'm from The Netherlands. It's a small country, but very beautiful and with a lot of history. I live in a small town called Laren. It has a very close community and we almost all know each other. The town council organises a lot of activities, for example this year we had a small food truck festival. Which was very fun.
2.What did you do before coming to EC Oxford?
Before coming to Oxford to study English at EC, I was a student at the Comenius College in Hilversum. It's around 30 minutes with my bike from where I live. After I graduated high school, I started with my gap year. I worked for 2 months at a restaurant.
3.What is your favourite thing about studying at EC Oxford?
My favourite thing about studying English at EC Oxford is definitely how close everyone is, everyone knows one another. Also the way of teaching, it's not boring and the teachers are great. I think this makes learning a lot more fun. Not to mention the small classes, this way you get a lot of personal attention. The topic of the week is something I also really like, it's nice that the school helps you get to know new students and helps you with doing stuff after school if you don't have plans already. By making the students choose the topic of the week you really feel like your voice matters, which is great!
4.What do you recommend in Oxford for other students?
Oxford has a lot of beautiful places, so I can't just recommend one thing, but I feel like The Grand Café is a very nice place to go. You can have afternoon tea there or just a slice of cake. Both are really good! I would also recommend going out for dinner in different places from different cultures, especially if you don't get to experiences this at home.
5.Can you tell us one thing that surprised you about living in the UK?
One thing that surprised me the most was that when I came here it wasn't raining. I seriously thought it was going to rain almost every day, but it actually didn't. In my first month I had really nice weather. The first time I experienced rain in the UK was after 3 weeks, before that it was only sun.
Comments
comments