An important part of learning English as a student at ECSD is continually communicating (in English, of course) with those around you. One of the best ways to learn and improve English skills is to try talking about a personal passion. For many students, one of them is sharing about their own culture.
EC San Diego staff members and teachers work at ECSD because they love meeting new people & learning about new cultures. We are the students of our international students – they teach us as we teach them.
Recently, several ECSD staff members & teachers traveled abroad. Here are a few quotes from their descriptions of where they went, what they did, and what they brought home with them to ECSD:
Elisabeth Stallard, ECSD Student Counselor:  "I went to Maui [Hawaii] for one week with my boyfriend. We snorkeled and hiked and ate amazing sea food, but the moment that stands out the most during my trip is when we [my boyfriend and I] saw a sea turtle one day. It was after we had been out [snorkeling] for a while, watching lots of fish and a few eels darting back and forth through the water. Then, all of a sudden, we saw this turtle drifting from rock to rock and feeding on algae. I kind of don't know how to say this…but we stopped and just hung in the water with him. It gave me such a calm feeling, and centered me in a way. Like all that existed was just this turtle, and me, and my boyfriend. We watched him for over 20 minutes, just not moving and then swam slowly with him.
"Now I know, being back in San Diego, that it is okay to move slowly sometimes. It is okay to allow yourself to stop and really see where you are. Nature is something I take for granted sometimes, even in here. So, basically: Don't be afraid to stop & smell the turtles!!"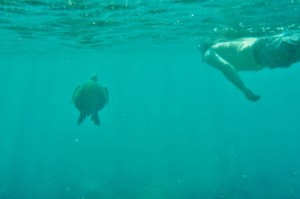 ECSD Teacher Mai Lee:  "I went to Costa Rica for two weeks, staying on the Pacific side in a small surfer community called Santa Theresa. The weather surprised me – it was sunny, and didn't rain at all! The people there are just so incredibly friendly and welcoming, and overall it was a very chill experience. The town is just paved roads and a few new hotels. A great moment was when I saw a troop of howler monkeys in the jungle from off the beach. I had just finished a surf lesson, and there were just these monkeys watching from the trees – and a little baby one walking around on its feet!
Honestly, going to Costa Rica made me realize just how important knowing English is for getting around and traveling. And of course, try and enjoy the simpler things in life!"
ECSD Teacher Nick Di Zinno: "I went to Italy – Sicily & Rome, mostly – with my wife and my son, who just turned 9 months old! This trip was about showing Italy to my son, and connecting him with his roots. His mom is Italian and her entire family lives in Sicily, so we wanted him to experience that side of his roots. One amazing thing we did was go to the Ionian Sea [the Mediterranean channel between Sicily and Rome].  My son is too young to swim so I took him in the water with me – it was so clear and warm! He also ate some cannolo (cannoli), which he loved.
"It was amazing sharing Italian culture and history with my son and my wife together. I think that traveling is important in life to build character & to experience things you never thought possible!"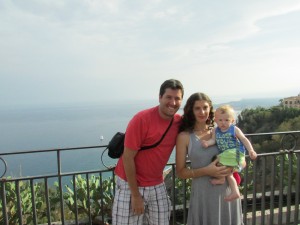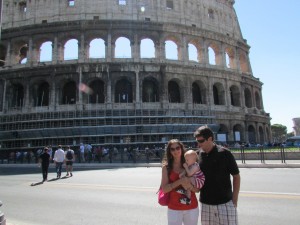 Comments
comments